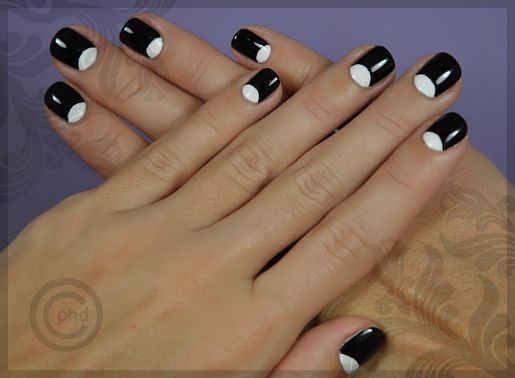 Half Moon Manicure
I've seen the "half moon" manicure so many times online but I was never really THAT excited by it... until I saw it in black and white. Black-and-White is my thing! I wear a lot of zebra print... b/w stripes. I also love houndstooth... And just plain black OR white. They never go out of style. When I saw them together in this manicure, I just HAD to try it.
Liquid Palisade
This was also the perfect opportunity to try my sample of Liquid Palisade, which is a paint-on product that creates a seal for any surface you don't want polish! It's great for nail art, french manicures, or just to keep your cuticles clean during normal polishing! I'm especially excited about trying it for pedicures!

It's as easy as 1, 2, 3 . . . 4!
Liquid Palisade works exactly like it is said to work. It's so easy too! There's virtually no learning curve... you just need to get used to painting with the brush (I hope you have a steady hand!). Believe it or not, this was my first attempt at it. Seriously. E-A-S-Y. Follow the four easy steps described below (Paint, paint, paint, and peel)! You simply paint it on where you don't want polish to be, cover your nail with the desired color, and then peel the Liquid Palisade off. The idea is absolutely genius. I only wish I had thought of it first :)
How To Use Liquid Palisade
1) Paint your nails with your base color and allow to dry completely.

2)

Draw a design onto your nails with Liquid Palisade

(I went over my design twice so the Liquid Palisade was thick and would be easier to pull off. Also, make sure to apply extra Liquid Palisade off of your nail so you can later grab it with tweezers!

)

. Let the Liquid Palisade dry for a couple of minutes and then...

3)

Paint over Liquid Palisade with your next color.

(

Use a one-coat polish because you have to remove Liquid Palisade when polish is still wet)

.

4)

IMMEDIATELY start to remove the Liquid Palisade

(I suggest using tweezers so you won't accidentally touch the wet polish and because Liquid Palisade tends to fling up at you since it's stretchy!)

.

P.S. Only "polish-and-peel" 1 finger at a time. You don't want it (for example: the black polish) to dry before you take off the Liquid Palisade or you might pull up some of your polish.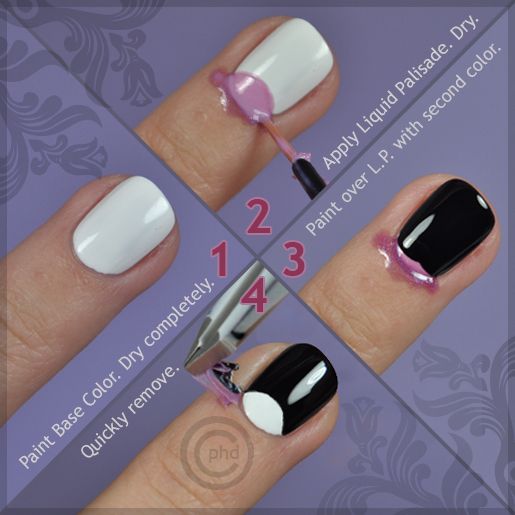 Liquid Palisade was sent to me for review :) You can see more about it HERE.
Friday, December 03, 2010