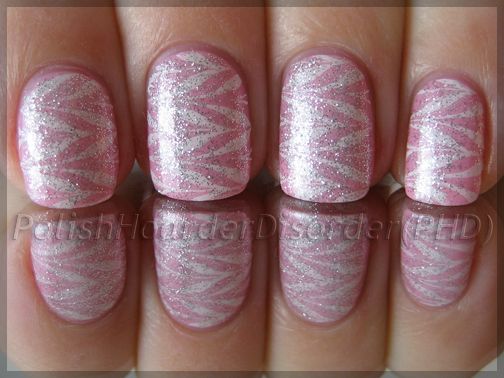 Here is another attempt at Easter eggs. I'm not convinced this pulls off the look I was going for. Anyone else having difficulties creating nail art for Easter?
Base - OPI Pink-ing Of You
Stamped Image - Konad M78 (White Special Polish)
Glitter - China Glaze's Tinsel
I wanted them to look marbled without actually having to marble my nails. Then I threw on some glitter to see if that would help give them that hand-decorated look. You know, some eggs have glitter nowadays.
But here is a picture without glitter:
And then I used Essie's Matte About You. I don't like the matte version at all...
Overall, I like the nails a lot (with the exception of the matte effect) but I don't particularly think they scream "Easter"... Dang.