This manicure has more of an impact in real life. I used China Glaze's Ruby Pumps for the base color so this nail design is actually pretty sparkly. My current camera is lame and doesn't capture the reflection of light off all the glitter :(
Do you see the light pink showing through the white flowers? I don't know why it does that... I stamped the hearts first and the flowers on top of it!
I think I'm going to begin regularly posting photos of my hands when I'm showing you all stamped nails. It just gives you a better idea of how the design looks in real life.
I just received my Konad order in the mail today. Yay! I ordered plates: M20, M77, M78, M79, M80, M81. I absolutely had to try at least one of them! Here is what I used today:
Base: China Glaze's
Ruby Pumps
Hearts: M80 in
Pysche Hot Pink
(Konad Special Polish)
Flowers: M25 in White (Konad Special Polish)
Here is one last photo. The red is probably more accurate in this picture.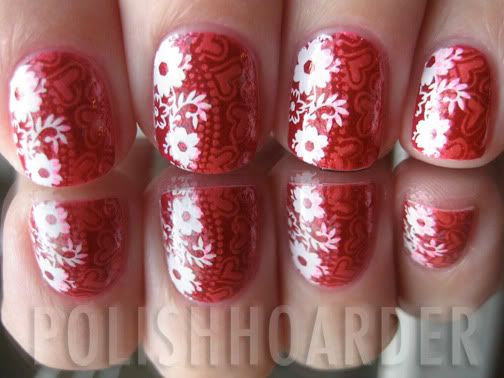 It is less obvious that this is a Valentine's Day manicure versus my previous posts. Maybe I should have stamped the hearts in white (so they would have been more prominent) and the flowers in pink. Oh well.
Friday, February 12, 2010