I'm starting off with a photo of a very lovable kitty... Pete! He decided to join me at the table while I was taking pictures of my nails. He has the prettiest green eyes.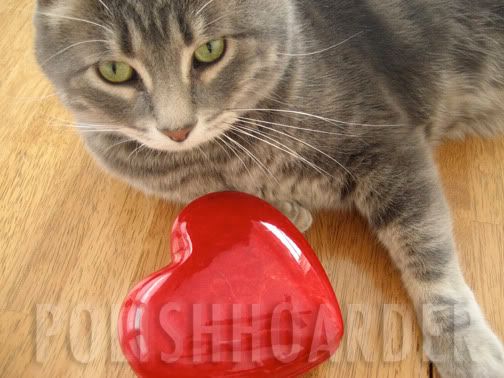 My index fingernail is still very short (the red one) but I wanted to pump out some Valentine's Day manicures anyway. I've been very inspired by all of the other bloggers' posts and had to try some of my own! Below are my initial Valentine's Day
color picks
: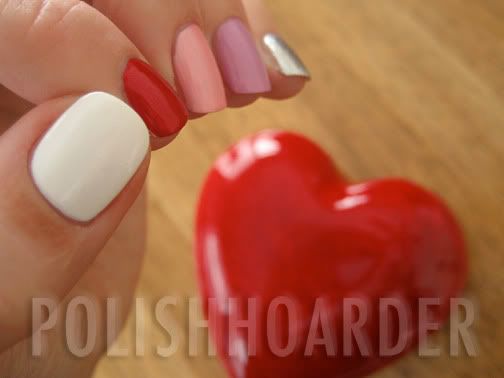 Thumb: OPI Alpine Snow
Index: OPI
Friar Friar Pants On Fire
Middle: OPI
Italian Love Affair
Ring: OPI
Lucky Lucky Lavender
My bottle of Alpine Snow was painted shut! I have a blood blister in my palm from trying to force it open. After a few tries of holding the polish under hot water and tapping the cap with a butter knife, I got it open! Yay :)
Below are just "base" and "stamping" color combinations. I did this because I was having trouble deciding what colors I wanted to use... so I tried them all!
I would not go out in public with these nails
...
Oh by the way, it took me FOREVER to pick up the small strawberry image from the Konad plate (M55). Sometimes I think I have faulty plates because I usually have a lot of problems with the very small, detailed designs :( Anyone else feel like I do?
*IDEA!: Ughhhh! I wish I had a brown! It would be cool to make your nails look like chocolate covered strawberries! You know, paint your nails red and then do the tips with brown and maybe take a striping polish to draw white on like dribbled frosting! A brown OPI is definitely going on my "Need To Get" list!
This is an idea that I did not finish (because my pink Konad Special Polish is WAY TOO bright... the phrase was added in Photoshop) but thought someone else could. I chose these colors to represent the little candy hearts that are everywhere during this holiday. All these nails need is a small design or saying to put on the center of each. Then, coat the nails with Essie Matte About You (like I did in the picture) to give them that flat, almost powdery finish!
Thumb: OPI
Lucky Lucky Lavender
Middle: OPI
Banana Bandanna
Ring: OPI
Italian Love Affair
Pinkie: OPI Alpine Snow
Next I HAD to use my heart tips design from Konad image plate M56... Especially since I'm getting NEW Konad plates in a few days [Yay!] and will most likely favor them over my "old" ones (the majority of them I haven't even used!).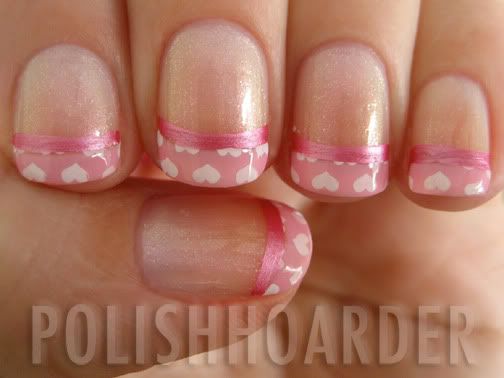 This is a very girly and surprisingly subtle design. The pink doesn't stand out as white tips would. I suppose if you wanted more pizazz, you could do the reverse. You could paint the tips white and stamp the hearts in pink. The colors I used are:
Base: OPI Pearl Of Wisdom
Tips: OPI
Pink-ing Of You
Konad Plate: M56
Stripe: So Easy's (Pink Pearl) Stripe Rite
Gosh. Every time I use OPI's
Ulta-Mate Berry Beautiful
, I am just AMAZED! I'm guessing it's an old formula (it doesn't have the Pro-Wide brush) because it is opaque in one coat and is soooooo shiny!... similar to Rescue Beauty Lounge polishes! I absolutely love this polish.
What I've done here is similar to what would be called "Spot Varnish" in the printing world.
To achieve this, I painted my nails with
Ulta-mate Berry Beautiful
. The nails that I did not want a heart on I then coated with Essie's Matte About You. I applied Seche Vite to the nails which would have a heart so that they would be extra shiny. Once the Seche was completely dry, I placed a heart-shaped sticker to my nail, pressed it on well, and quickly applied Essie's Matte About You on top before the edges of the sticker lifted from my nail. Lastly, I used tweezers to remove the sticker from my nail. (I think it would be best to remove the sticker before the matte topcoat dries so you don't have rough edges around the shape of the sticker. Do you know what I mean?) Kind of fun!
Well, that is all for now... Thanks for looking!
Tuesday, February 09, 2010