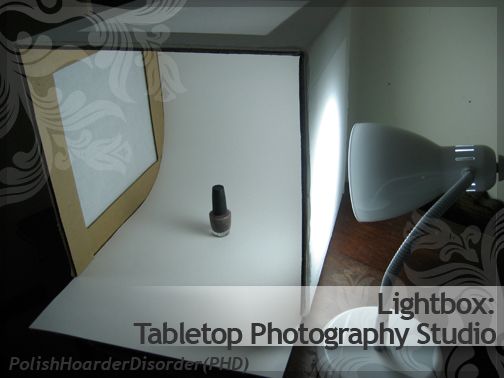 I made this about 2 weeks ago... I know, I've been M.I.A. but hopefully I can start posting regularly. Riiiiiight after this humongous paper cut heals! I don't want to get any acetone in it.
It's really fun to have my own mini "studio" :) I've already used it to photograph ALL of my bottles of OPI. (My next project is to link all of the polishes on my "My OPI" list to the photographs I took of them... By now, you know me. It probably won't be complete until summer. Who knows!) I should have gotten another lamp. It is on my to-do list. I'm going to get a lamp with a halogen bulb. I think glitter polishes will sparkle more under halogen lighting.
Pete (the cat) likes my lightbox too. Thirty seconds after having set it on the floor, he ran and curled himself up inside of it! I shooed him out right away. Thank goodness he didn't crinkle the poster paper inside!
Also, I'm adding some decorative elements and text to my photos. I hope you don't find it distracting.
AND... I'm so dumb. I didn't even realize that I'd have to worry about bandwidth usage with my Photobucket account. I got an email yesterday telling me I had almost reached my limit for the month so I had to upgrade to a pro account ($25 a yr). Well, I didn't HAVE to but I did so I wouldn't need to worry about it.
Lastly... I'm like 85, maybe 90, % of the way to having a new camera. I just have to keep saving! I can't wait :)
Thanks for reading!