"So... what else has been on your mind since you've been M.I.A, Polish Hoarder?"
Oh, I'll tell you! A trip to Miami to see one of my best friends since elementary school! Me and a friend leave this Thursday to fly down to Florida!... I've barely been able to think about anything else for the past month. Three weeks ago I had already started my To Pack List... then there was my To Buy For Florida List... and the What To Do Before Florida List. See what I mean?! I'm a mess. Haha. But in a good, excited way of a mess.
One of the items on my
To Buy For Florida List
was a new makeup bag. I
had
a tiny little makeup bag, but let's face it... I'm a hoarder and I've always got too much of a good thing! So needless to say, I have more makeup than will fit in that little bag... My "everyday" makeup storage is a train case that works pretty well:
I got this at Target several years back for about $20... Probably the best twenty bucks I've ever spent on an item. [Below] See how organized I am? :)
However, it's waaaay too big to haul through the airport! I really needed something that was efficient with space but could hold all of my stuff... And then I found it:
This is Bare Escentuals' "Purist Grand" tote. My mom got a similar makeup bag a few winters ago and I loved it! The only thing that was better about hers is that it zips closed. This one just has a measly little snap at the top! More about the bag: It folds open to reveal two clear compartments on each side and brush loops in the very center (if it were a book, it'd be the binding). One bad thing about the bag: since the it doesn't have a zipper, I've noticed that my brushes fly out of the sides... (Cost $35)

Yay! This is going to work just perfect!
P.S. That colorful brush bag in the center is from my other makeup bag.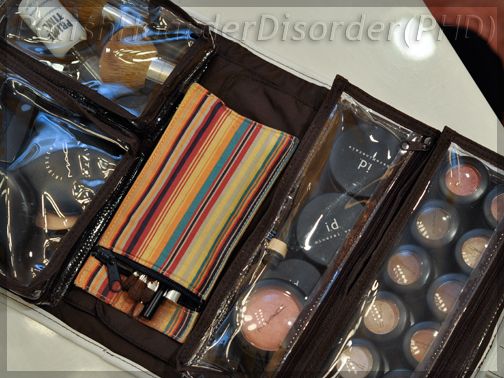 By the way, the compartments are fairly deep. Those eyeshadows are double stacked. That one space holds 24 Mac (or Bare Escentual) eyeshadows!
What's that little black spot in the top-right corner?? :) I'll show you later!
P.S. The challenge gallery will be posted soon! Today if I have time, or tomorrow! Have a lovely day!