I'm not going to lie... Lately, I've been very preoccupied! I'm sure you all could tell. I feel like I have a million things to do and not enough time to get it all accomplished! Unfortunately, my nails have taken a back seat. I still keep them nicely polished (only because polish prevents them from breaking) but I just don't have the energy to photograph and edit photos right now...
So what have I been up to? Well, here is something... This is the reason why I never got my challenge nails done last week! Yankee Candle's Halloween candle holder collection called "The Boney Bunch!" I'm absolutely obsessed! It began last year actually. I bought 3 pieces:
COFFIN MAN- TEALIGHT HOLDER: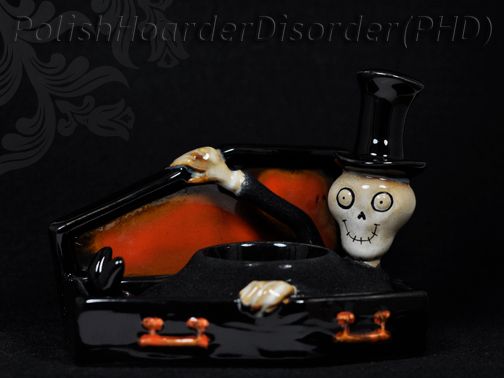 PIRATE- VOTIVE HOLDER: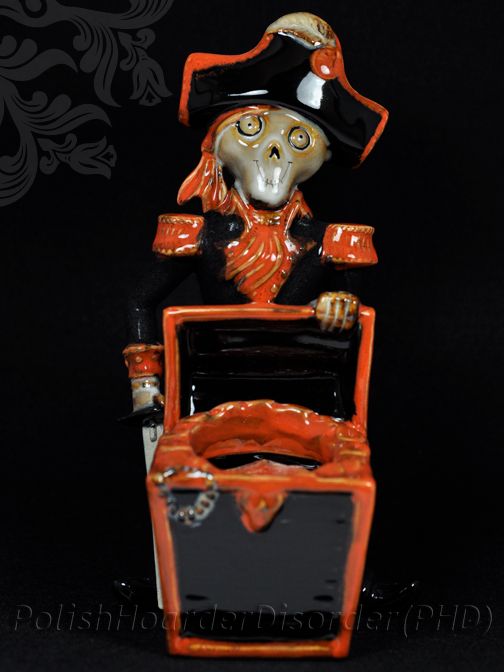 HEADLESS PIRATE- TEALIGHT HOLDER:
Last year wasn't the first year they came out but it was the first year I was aware of them! They also had some wedding themed Boney Bunch that I was not into so I didn't purchase any. My mistake! The bride and groom sets were (and still are) being sold on the bay (ebay) for ridiculous prices! By "ridiculous" I'm talking up to $100 for one piece that was originally just $19.99! Crazy, I know!
This year the collection was released August 7th (last Saturday). My friend and I were told by some of the sales associates that if we wanted to get our pick of the items, then we'd have to get there early! We arrived before the store opened and waited in line outside of the doors. Yes, there was a line! Thank God we were near the front! Here is what I bought once we got inside:
THE BONEY BUNCH VERSION OF AMERICAN GOTHIC- VOTIVE HOLDER: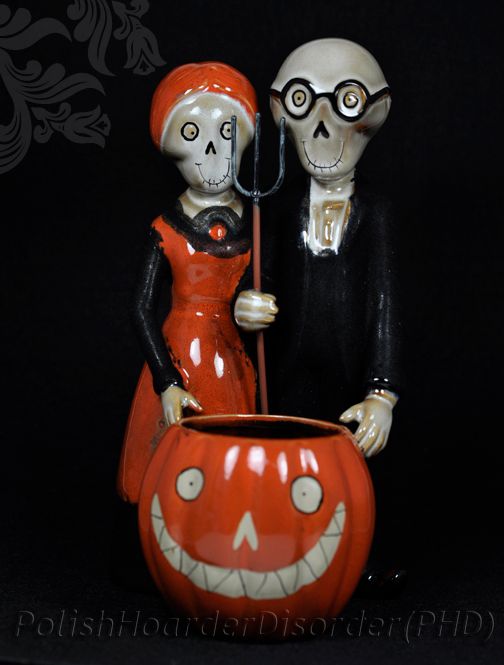 LAST CALL- VOTIVE HOLDER: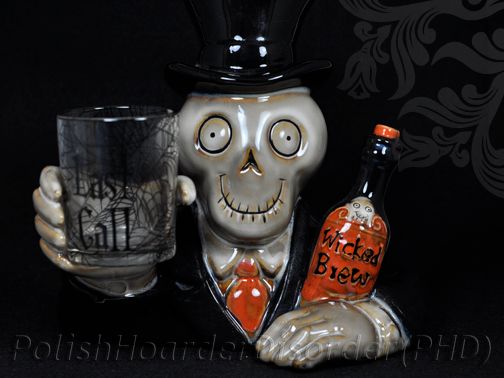 NEWLY DEADS- VOTIVE HOLDER:
I really wish I had gotten the Santa Boney Bunch guy, seeing that he is now sold out online! If he is in the store the next time I'm there, I'll grab him. I also got a few other Yankee Candle items but I just wanted to show you my Boney Bunch collection!
What do you think? Is it worth all the fuss? I just LOVE them!
Thursday, August 12, 2010