Deborah Lippmann "Lady Sings The Blues"
What It Is
A navy blue jelly polish with two sizes of silver glitter: small "regular" glitter and large hexagonal glitters. This polish is from Deborah Lippmann's All That Jazz trio.

How I Wore It
In order to preserve my bottle of "Lady Sings The Blues" (and because I'm sure you've already seen this swatched in its purist form) I decided to layer it over Nfu Oh #270, a cobalt blue jelly. I did 2 coats of "Lady Sings The Blues" so that I could maintain the rich navy blue that you see in the bottle. And let's be honest, to get more glitter on my nails! P.S. I used Seche Vite as a top coat to achieve a smooth surface but it gave me baaaad shrinkage! I used a small paint brush and some pure acetone to clean up the polish that was left behind.
Grr! That's so frustrating!
Side Note
Though I like the name of this polish, I think it looks more like outerspace than Lippmann's "Across The Universe" does. Seriously, just look at it! It has small specs of glitter that are like stars and hexagonal sequins like planets! The jelly base gives this polish so much dimension that the glitter "planets" appear to be deep in space. I love how the glitters on the bottom layers are blue while the glitter towards the top are sparkling silver!

Overall
I just adore this polish. Consistency was good. Application was a little on the difficult side. You have to brush, brush, and brush some more to get the large glitter chunks were you want them. Other than that, the color is amazing and the wear seems to be pretty decent! I'm so glad I bought this :)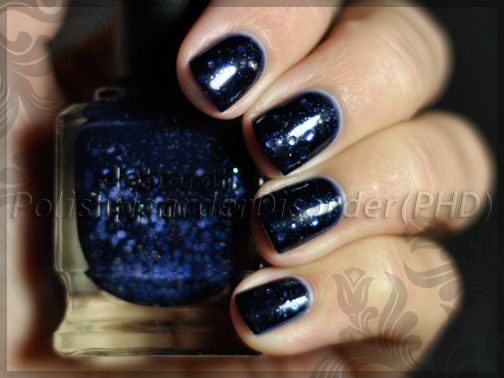 I purchased this polish, as part of the All That Jazz trio from Zappos.com!
Thursday, November 04, 2010