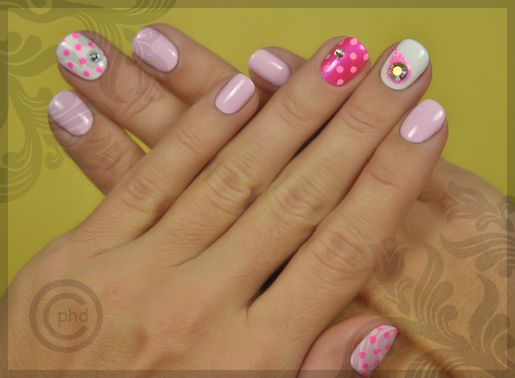 Everything You'll Need:
Light Pink-
OPI "Mod About You"
3 coats
White-
OPI "Alpine Snow"
3 coats
Dark Pink-
Zoya "Kiki"
2 coats
Image Plates-
Konad M79
(Polka Dots)
Konad M14
(Lollipop)
Rhinestones-
Aurore Boreale (Swarovski)
5MM
Clear (Swarovski)
9SS
Stamping Polish-
Konad "Psyche Pink"
Over white/light pink
Konad "White"
Over dark pink
Top Coat-
Konad & Seche Vite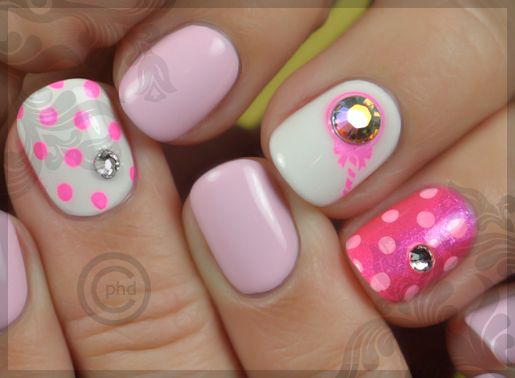 Inspiration
Lately, I've been obsessed with Japanese / Kawaii nail art. I love all of the embellishments (rhinestones, pearls, 3D acrylic accents, etc) and the fact that each nail is its own design but still, no doubt, belongs to the set! This is NOT my attempt at it. It's just me heading more towards that direction. I've also really been inspired by
Emerald Sparkled Blog's
skittle manicures. Check it out and you'll understand why!
Make It Happen
I waste A LOT of time trying to decide what I'm going to do to my nails. I'm very indecisive. My thought process is a mess: "If this nail is light pink, that nail should be dark... but where is the white nail going to go? I don't want any patterns; it has to look random. Blah-blah-blah". This time I decided to start at the drawing board. I used Adobe Illustrator to create my plan of action! Below is a simple, colored illustration of my nails:
Do you pronounce it "Polka dots" or "Poka dots"?
Saturday, November 27, 2010