Sorry this is posted late in the day... Blogger was having technical problems all day in my region!

It's Monday! And that means its a start of a new weekly challenge! This week's challenge is "Patriotic" nails. Independence Day is coming up soon for the U.S. (July 4th) and that got me thinking... It would be nice to see everyone's nail designs ahead of time so when it comes to July, there will be some ideas to get inspired by! ALSO, I thought it would be fun to see some patriotic nails BESIDES for the U.S... I'd like to see where you guys come from/live/call "home" :) By the end of the week, I hope to see more flags than shown in the photo below! Alright! Now let's have some fun!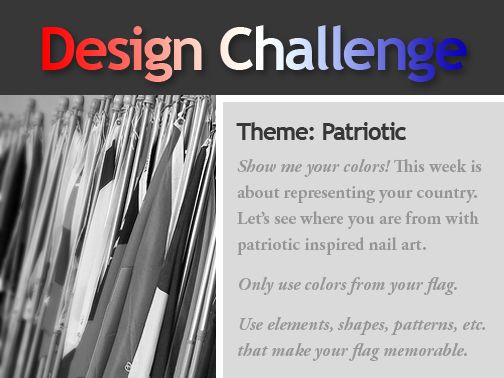 Send me your "Patriotic" nail designs by Friday (6-11-10) at midnight (CST) to polishhoarder@gmail.com!

Preferred file size: 7" WIDE x 5.25" TALL @ 72 dpi

If you do not know how to crop and resize your image, let me know and I will gladly do it for you!