"The Clean-Up" is one of the best ways to make it look like you are a pro at painting your nails. This short tutorial will show you how to get that perfect manicure...
I've had a lot of practice painting my nails but sometimes, depending on the formula of the nail polish or how much coffee I had that morning (whoa! Shaky hands!), my manicure can still look sloppy. When I first saw a tutorial for cleaning up my cuticles, I thought, "Well, duh! Why didn't I think of that!?"... Now, I'm sharing what I have learned so we can all have perfectly painted nails together!
You will need a teeny, tiny paintbrush (~$3.00) and pure acetone ($1.00). I recommend 100% acetone rather than regular nail polish remover. It works better and does it faster! :) As far as brushes go: This is a paintbrush I bought at Michael's but some people use makeup brushes. Use whatever works for you. The smaller, the better. Probably. Most likely... Oh yah! You will also need a paper towel.
The first thing you should do is find a surface that will not be harmed by acetone.
I usually do my clean-up on the bathroom counter or on a plastic table
. Next, double-up your paper towel by folding it in half. This is just to make it thicker and absorb better. Then, pour the acetone in a small container. I like to put it in the cap of the bottle it came in. You won't need much. That's why the cap is the perfect size.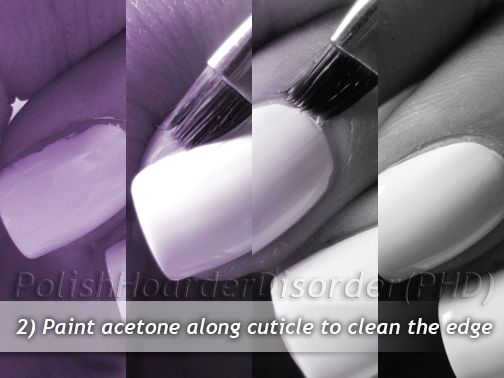 Now for the actual clean-up part... Dip your brush in acetone, lightly dab the excess liquid onto your paper towel
(If you don't, that small amount of acetone will flood your cuticle and potentially ruin your manicure. Either that or REALLY dry out your skin. Trust me. Just dab!)
, and finally brush along your cuticle to clean off that runaway polish! You should frequently re-dip your brush in acetone and also wipe it on the paper towel to remove the nail polish that you just cleaned up. And that's it!
This will take some practice and getting used to but it is something that I think everyone should try! It takes very little effort and makes such a HUGE difference!