... or at least that's what these nails remind me of. Yum!
I was feeling summery this day :) Do you ever get like that?
Base Color - OPI "Fiercely Fiona"
Ruffles - Konad Image Plate M62 (in White Special Polish)
Lime - Konad Image Plate M55 (in Apple Green Special Polish)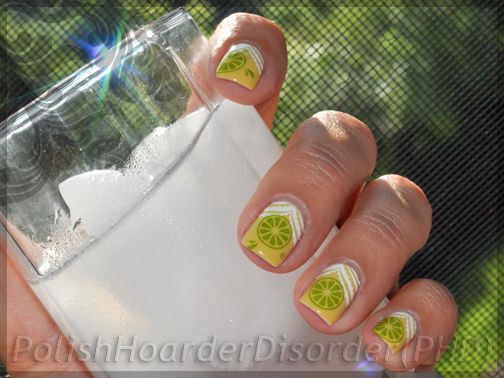 My stamping got a little sloppy. This is from the same morning that I had to create & submit the penguin nails for my "Animal Print" challenge! So unfortunately, I was in a hurry.
I LOVE this fruit image! It can be so many things: lime, lemon, orange, grapefruit... Am I missing anything? Take a look at
Emerald Sparkled Blog's "Freshly Squeezed" manicure
. This is the post that made me want to use plate M55. It also made me thirsty...