*EDIT: Color description is based on viewing photos from a Mac. After seeing the photos on a Dell, my color corrections are pretty dang close to accurate. It all just depends on your computer monitor :)
Zoya "Charla"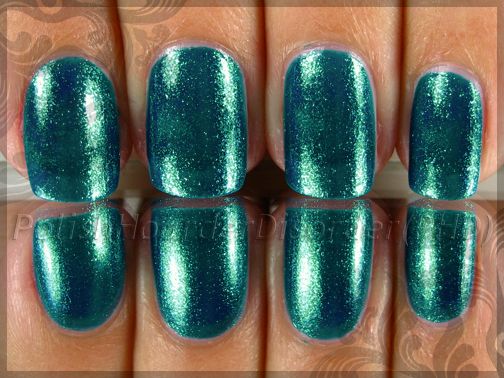 I almost don't want to post these photos because I couldn't get either of my cameras to accurately capture the color of this polish :( I tried color correcting in PS but it still is not perfect... And I'm a perfectionist so this is driving me nuts!
Use these photos for reference on how much the polish sparkles. I don't think there is any nail polish more glittery or fantastic than the Zoya's from the Sparkle collection (not even Nfu Oh flakes!). This is "Charla".

"Charla" is a blue based polish with LOTS of turquoise (?) glitter! It has so much of this glitter that the color of "Charla" is hardly blue at all! I would call this polish aqua.

Compared to my photos, "Charla" is actually much more saturated in color and has a hint more green... You should have seen the color that my camera(S!) thought it was! Light blue... This is definitely NOT a light blue.
Here is an indoor shot. I used Photoshops basic layers adjustments to color correct this photo. Wasn't completely successful...
Here is an outdoor shot. For this photo, I opened it with Camera Raw to make the color changes. Meh... still not right. Oh well... But look how it shines! :)