I felt the need to do something different and this is what happened: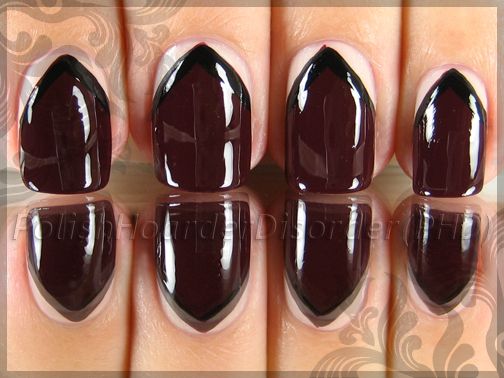 I wanted to create the illusion that my nail beds formed a point. Kinda creepy... but kinda cool! They look like reversed vamp nails! Maybe I was subconsciously inspired by the recent premiere of the 3rd season of True Blood or maybe the newest movie in the Twilight series (also the 3rd...). Whatever it was, it worked! I like this.
Notice the black line. Without it, the manicure looks very unfinished.
Skin toned color- OPI "Canberra't Without You"
(topped with Essie "Matte About You" to reduce shine)
Dark Red- OPI "We'll Always Have Paris"
Black line- Stripe Rite (Black)
How do you feel about it?
I think it looks pretty good. I just wish I'd had a darker flesh tone color to match my skin better!