OPI "My Private Jet"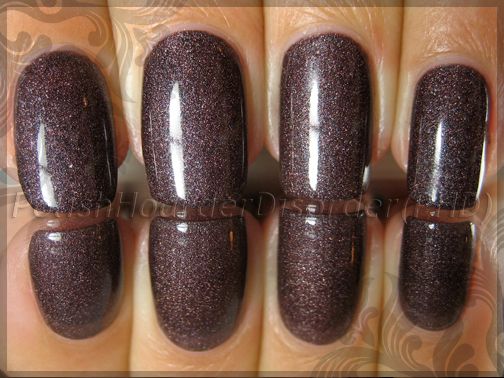 Here is the version I have! I don't think this one has the charcoal base like some do. It looked very similar in color to "You Don't Know Jacques"... Anyways, it does have that green flash that I've seen people mention [shown in the photo below]. It also has scattered holographic specs, minus the rainbow effect. This version is to the Original "My Private Jet" as DS "Extravagance" is to DS "Exclusive". Get it? :)
I still like it though...
I wonder how many versions actually exist...? At the beauty supply store last weekend, I saw one that was more charcoal in color with larger, but less, holographic pieces. I almost bought it but I really don't wear this one enough as it is!
Thanks for stopping by! Enjoy your day... Mine has started off well. It finally feels like fall around here. The leaves are turning red and there's not a cloud in the sky. Ahhh. So relaxing :)
Wednesday, October 06, 2010