If you haven't seen this icon before, let's get acquainted. Friend, this is Macro. Macro, this is my friend... I'm confident that you will soon be inseparable :)
For those of you that don't know, Macro mode is a very useful camera function. If you've ever had problems getting your lens to focus properly on an object up close, this is the button for you. Let's take a look at its magic!
Tips For Using Macro:
Turn off the flash-
Since your camera is positioned very close to the object you are photographing, it is best to turn off the flash. Otherwise, too much light will hit your subject and end up washing it out (P.S. "washing out" means your photo will be extremely bright and your subject will lose a lot of detail). If you need more light, photograph near a table lamp or go outside in the sun :)
Focus First-
Before you take your picture, press the shutter button (the button you push to take a photo) down half-way. You might hear your camera make a noise. This noise is an indication that your camera has focused on its object and is ready to snap the picture. My camera LCD (screen) will display a green border around the area that it is focused on. This is usually the part of the photo that is best in focus. Other areas may be slightly out of focus or really blurry, such as objects in the background. If your camera has the border feature, use it to your advantage. You can still get poorly focused photos, even in Macro mode, if you have not focused correctly.
Don't get TOO close-
Even though your camera can focus a few inches from your object, you probably don't want to take a photo that close because you will end up with some distortion of your subject. I'd say, stay at least 4 or 5" back so you don't end up making your object look like its bulging in areas it shouldn't be :)
Let's find that icon!
On most cameras, the macro icon is right there in the open! Take a look at my cameras...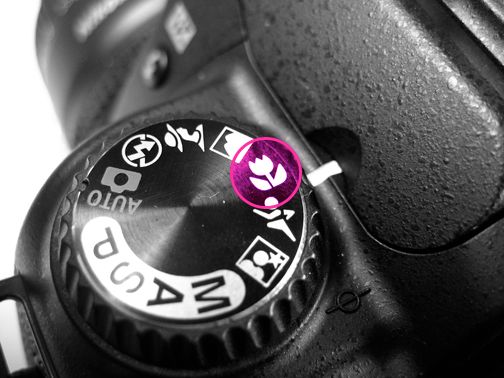 [ABOVE] Nikon D90... [BELOW] Canon PowerShot
See? That wasn't too painful :)
[Some cameras don't have an obvious Macro button. In that case, you may have to go through your "Scenes" (like portrait, night shot, sports, etc) and find the macro setting. Your camera will most likely have a Macro mode. You just might have to do some searching!]

Don't worry if you have seen this icon but had no idea what its purpose was... and don't feel silly. I was once there too :) I hope this little tutorial was helpful! I did not go into detail on how to set your Macro function because each camera is different. You should refer to your User's Manual or if you've misplaced it, google it! You can find answers to pretty much anything on the internet!
Thanks for reading!
Tuesday, October 26, 2010