Here is the nail design challenge that I am proposing for this week. Animal inspired! It seems easy but I think we can get a little more creative with it!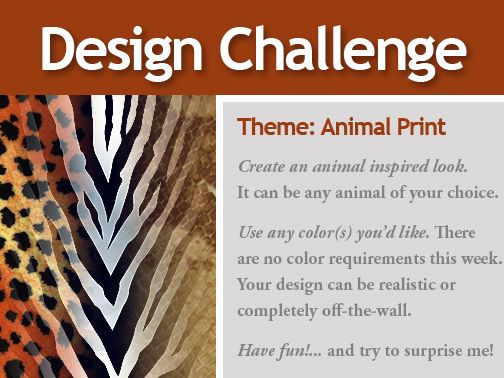 While I love animal prints/patterns the way nature created them, I'd like to see you jazz them up a bit! Try layering, adding a POP of color somewhere, or using animal print only on certain parts of your nails... Let's get creative!
INSPIRATIONAL ANIMALS
Zebra

Tiger

Panda

Peacock

Cheetah

Mandrill

Tortoise

Flamingo

Clown Fish
Snake
Cow
Parrot
Giraffe
Skunk
Tree Frog
Penguin
Send me your "Animal Print" nail designs by Friday (5-28-10) at midnight (CST) to polishhoarder@gmail.com. I'll be anxiously waiting for your submissions! I'm so excited to see what you all come up with :)
Preferred file size: 7" wide x 5.25" tall @ 72 dpi
If you do not know how to crop and resize your image, let me know and I will gladly do it for you!