Zoya - Ivanka
This is my 1st Zoya! Can you believe it?! It's pretty amazing if you ask me.

"Ivanka" is a jelly polish (the base is a transparent green) with TINY specs of glitter. Tons and tons of glitter! I have 2 questions about this polish...

1) What color is that glitter? Gold or light green? It's hard to tell. It is possible that the glitter is gold but the green polish surrounds the specs and makes them look green. Any opinions?

2) Where does that blue around the edge of the bottle come from? The effect is strong when the polish is in the bottle but not when on my nails. I don't think it is from the glass. I bought a few more Zoyas at the same time and none of them have it. Weird.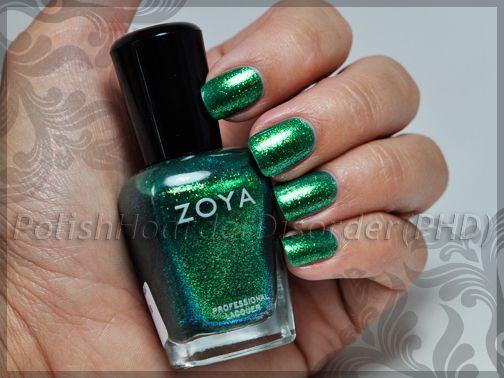 Yah, yah. I know I said in my last post that I normally stick to OPI polishes. I bought this the same day I bought Essie's "Chinchilly". I must've been having an off day :) I've got more of these sparkling beauties to show you as well!