I read a lot of blog posts that feature polish comparisons so I decided to do one of my own.
I hesitated to buy "What's With the Cattitude?" from the new OPI collection because I thought I owned a color that was nearly the same. I was wrong. Below are my blue OPI creme polishes. As you can see, none of them are at all close to the others. P.S. I just bought Ogre The Top but it was too late to make it into the photos...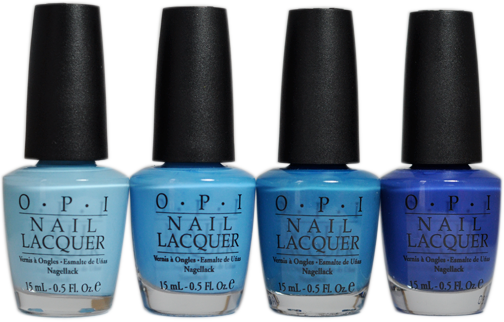 ... The Cattitude | Just Groovy | Suzi Says Feng Shui | Dating A Royal
I literally learn something new everyday! See that vertical line in between the polish names (listed above)? Well that's a key on my keyboard! I had no idea it existed! Now that's just ridiculous!! For the last 7 years I have LIVED on my computer and I JUST NOW find that key?? If you are wondering where it is... just above the "enter" button. I'm going to go on a keyboard adventure now to see what else I discover. Thanks for reading!