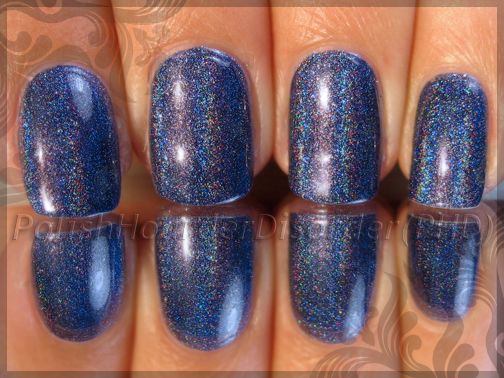 It's another blue! This is OPI (Designer Series) Glamour. I told you it was a super holo! (Not as super as Nfu-Oh holographic polishes but at least OPI's goes on in 2 even coats and you can wear a top coat without it ruining the holo effect!)
It has been raining soooo much here. When the forecast finally called for sun, I was wasn't going to miss my chance to show you guys this polish! I wanted you to see the difference between "Fantasy" and "Glamour". Well, now you have :)

Oopsy. I did a bad thing. A really bad thing. I got careless...

I bought an extra bottle of "Glamour" the other day because I thought I could include it in a future giveaway. Well, I was in such a hurry to paint my nails before Glee a few nights ago that I grabbed the NEW bottle instead of my previously used bottle! Now I've got two opened bottles of "Glamour"!
My fing'ns and toes are extra sparkly at the moment. I've got my toenails painted with Rescue Beauty Lounge Frugalista! It's glitter galore!
[Below] Look at all of those holographic specs!