Nfu Oh #59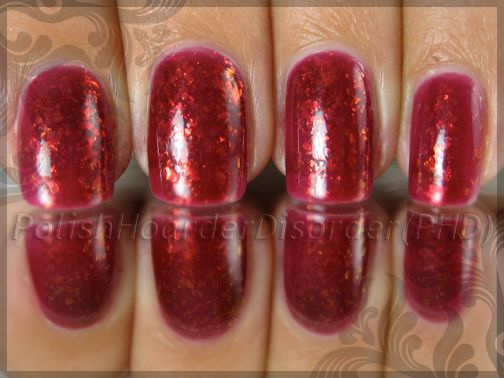 This is the color I chose to wear today. I've worn it plenty of times before and yes, I still have colors in my polish boxes waiting to be swatched... but I was in the mood for red and obviously, not just any red. I wanted to wear some flakes!

Nfu Oh #59 is a jelly. After one (sheer) coat, you would think the polish is magenta, but no. It builds into a lovely shade of red (This is 3 coats). The flakes shift from orange to green, though they mostly shine orange... What I love about flake polishes is how well they sparkle. The flakes are essentially giant pieces of glitter and we all love glitter, don't we? Oh yah, except the removal... and flake polishes are just as bad to remove. You'll definitely need some pure acetone to get those stubborn pieces off!
Here is a shot outdoors. The polish really comes to life in the sun!
Do you all have any Nfu Oh flake polishes?
If not,
Do I recommend them? ABSOLUTELY!