Hey guys! Here are some photos of my "Candy Land" inspired nails from last week's challenge. I really wanted to do something fun like:
Add sprinkles (they ended up being way too big for my nails) or...
Draw swirly lines to look like frosting (never got around to buying the nail art pen) or...
Stamp sweets on my nails (but the space was getting limited after the crazy Ruffian manicure I did)
I know, I know. I'm full of excuses! Sorry for my lack of creativity.

I also REALLY wanted to put some of those color changing glitters (not multi-colored... I'm talking about the "almost-white" glitter that flashes pastel colors) BUT of course, I don't have that kind of glitter... YET! :)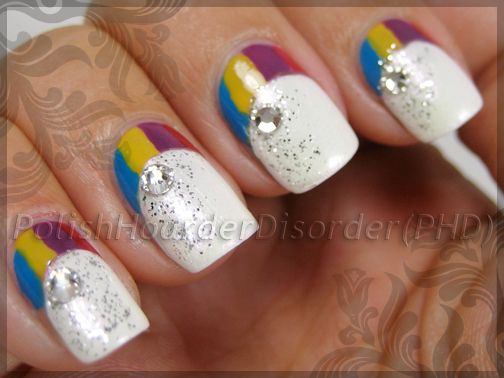 So, I ended up just doing this Ruffian manicure inspired by the path on the game board. It took FOREVER to do. I think I worked on it for at least 2 1/2 hours. That includes drying time though. Want to know the process?
I painted the 4 colors of the path on all of my nails.
When dry, I cleaned up both sides (near the cuticle and the opposite side where the white would be painted).
Then I carefully added the white. It took 2 coats. No cleanup necessary.
Next, I put on a topcoat to give the nail a nice smooth-looking surface.
After that, put some silver glitter on half of the white.
Last, I added the rhinestone!